Annual Reports
Each year, official opinions are compiled and published in the Annual Report of the Attorney General, pursuant to
§ 2.2-516 of the Code of Virginia. In addition to official opinions, each Annual Report contains a summary of the personnel and activities of the Office of the Attorney General for the year.
We are pleased to now offer digital copies of every available Annual Report from 1895 to the present (in Adobe Acrobat Reader format) below. Instructions for locating opinions in these Reports are also set forth below.
We anticipate being able to offer Annual Reports from 1872 to 1894 in the near future.
Please note that individual opinions issued in recent years also may be found on the Official Opinions page. This includes all opinions published in the current year, which are awaiting publication in the upcoming Annual Report. Readers seeking the latest opinions of the Attorney General are directed to that page.
INSTRUCTIONS FOR LOCATING OPINIONS
1. HOW TO LOCATE AN OPINION BY CITATION
If you have the legal citation to a particular opinion, it will direct you to where that opinion appears within the Annual Report in which it was published.
Below is an example of a legal citation to an opinion: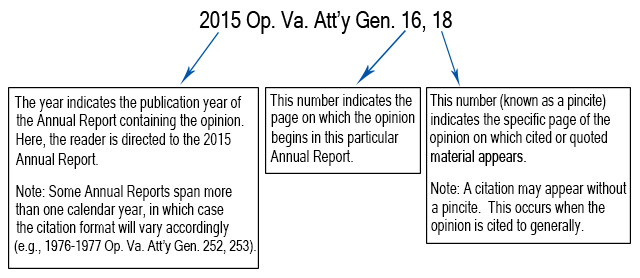 2. HOW TO SEARCH FOR OPINIONS GENERALLY
Opinions published between July 1, 1987 and December 31, 2016
You may search opinions that were published between these dates by using the indexes found at the end of each Annual Report. These indexes are organized by topic and by a list of statutes and other legal provisions cited. Some indexes also contain a list of individuals who requested opinions during the relevant year.
Opinions published prior to July 1, 1987
To search for opinions published prior to July 1, 1987, please refer to the cumulative indexes found above. Together, these indexes cover all opinions issued between July 1, 1930, and June 30, 1987. Each index is organized by topic and by a list of statutes and other legal provisions cited. Additionally, a "digest" was published for opinions issued between 1883 and 1915. The digest is organized by a list of statutes and features a summary of opinions. A link to the digest also is found above.
We are actively working to develop a search function that will enable users to conduct a universal search of several decades' worth of Annual Reports, and which will be available on this website. Online subscription databases such as HeinOnline, CaseFinder, LexisNexis, and Westlaw—some of which may be accessed at public libraries—may be helpful to users requiring advanced search functionality.