Sexual Assault Kit Testing Initiative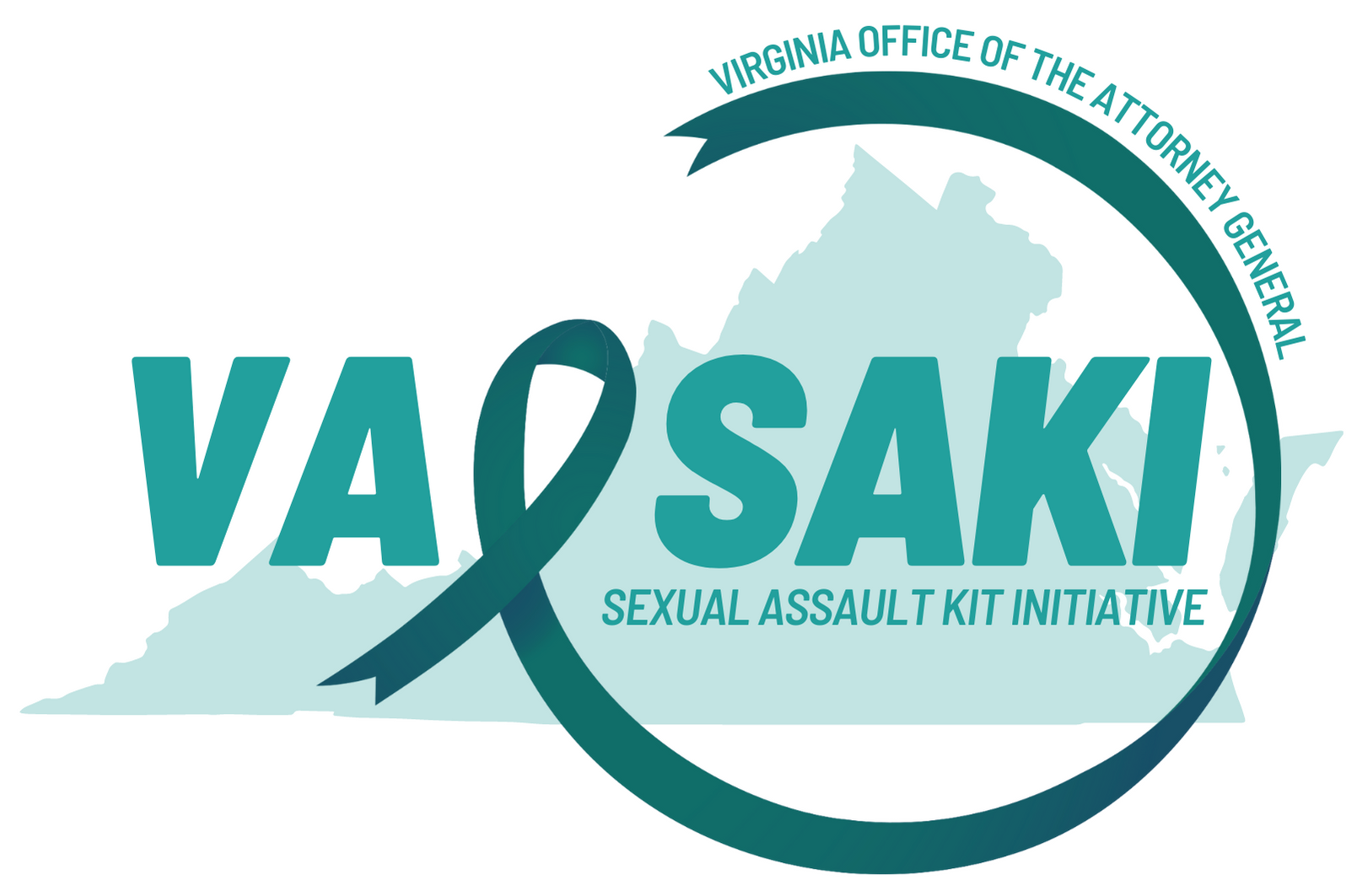 The Sexual Assault Kit Initiative of the Office of the Attorney General has secured over $6 million in grant funds, in partnership with the Virginia Department of Forensic Science and the Virginia State Police, with the goal of enhancing awareness of the importance of testing all sexual assault kits, building the capacity for trauma-informed responses to sexual crimes through multidisciplinary collaboration, and solving cold case sexual assaults and sexually motivated homicides.
Grant funds have and continue to support the following:
Elimination of the backlog of unsubmitted sexual assault kits;
Training and technical assistance for law enforcement and community partners that interact with victims of sexual assault;
Investigative and analytical support for cold case sexual assaults and sexually motivated homicides;
Building, implementation, and support of the Physical Evidence Recovery Kit (PERK) Tracking System; and
Funding to support advanced DNA testing and forensic genetic genealogy.
Survivor Resources
Virginia Resources
Virginia Sexual and Domestic Violence Action Alliance (24/7 assistance available)
Helpline (24/7 assistance available):
Phone: 1-800-838-8238
Text: (804) 793-9999
Mail: Action Alliance
P.O. Box 17115, Richmond, VA 23226
LGBTQ Helpline:
Confidential PREA Reporting Hotline:
Phone: 1-855-602-7001 (follow prompts)
Email:

This email address is being protected from spambots. You need JavaScript enabled to view it.
The Virginia Statewide Hotline is a space where survivors and people impacted by violence, like friends, family, professionals, and the general public, can connect with trained advocates. Advocates will listen, offer support, and connect you to resources in your area.
---
Latinos in Virginia Empowerment Center:
Bilingual Hotline for Spanish-speaking victims of violence. The Hotline is operated by bilingual and bicultural staff and volunteers trained as victim advocates to receive calls from individuals seeking safety, information, and support.
---
Virginia Lawyer Referral Service:
The Virginia Lawyer Referral Service will connect you to a lawyer in your area for $35. You receive a consultation of up to a half hour with him or her.
---
VaLegalAid.org is a Virginia Partnership for Equal Justice Website Project. It is an ambitious attempt by Virginia legal aid offices and their partners to provide complete, accurate, up-to-date information on poverty law issues in an interactive and easily accessible format. The intent is to allow access to this information by legal aid attorneys, pro bono attorneys, clients, advocates and providers of services to legal aid's traditional client base.
---
PERK Tracking System Victim Portal:
Access the PERK tracking system victim portal at: https://perk.dfs.virginia.gov/
For assistance accessing Victim Portal, please contact the PERK Tracking System Coordinator:

Phone: 804-588-4050
Email:

This email address is being protected from spambots. You need JavaScript enabled to view it.
The PERK Tracking System is a web-based application that can be accessed from any device that is connected to the internet. The status and location of PERKs are tracked using each PERK's unique PERK ID/Barcode #. No personal identifying information is entered into the system. Virginia's PERK Tracking System includes a Victim Portal, which allows a victim to use the System to view information regarding the status and location of his/her PERK.
For more information, see the Virginia Department of Forensic Science public website
.
---
National Resources
Rape, Abuse, & Incest National Network (RAINN):
RAINN is the nation's largest anti-sexual-assault organization and a national leader in online crisis intervention services. RAINN operates the National Sexual Assault Hotline and the National Sexual Assault Online Hotline. All services are free, confidential and available 24/7.
---
1 in 6 for Sexually Abused or Assaulted Men:
Offers information and services for men with histories of unwanted or abusive sexual experiences, and anyone who cares about them.
---
Department of Defense (DoD) Sexual Assault Helpline:
DoD Safe Helpline is the sole secure, confidential, and anonymous crisis support specially designed for members of the Department of Defense community affected by sexual assault.
---
National Suicide Prevention Lifeline:
Hotline: 1-800-273-8255 / or TTY: Use preferred relay service or dial 711 then 1-800-273-8255
The Lifeline provides 24/7, free and confidential support for people in distress, prevention and crisis resources for you or your loved ones, and best practices for professionals in the United States.
---
The Trevor Lifeline (for young LGBTQ+ people):
Information and support to LGBTQ young people 24/7, all year round.
---
Substance Abuse and Mental Health Services Administration (SAMHSA) National Helpline:
SAMHSA's National Helpline is a free, confidential, 24/7, 365-day-a-year treatment referral and information service (in English and
Spanish
) for individuals and families facing mental and/or substance use disorders.
---
For more information please contact This email address is being protected from spambots. You need JavaScript enabled to view it.
This project was supported by Grant No. 2019-AK-BX-0020 awarded by the Bureau of Justice Assistance. The Bureau of Justice Assistance is a component of the U.S. Department of Justice's Office of Justice Programs, which also includes the Bureau of Justice Statistics, the National Institute of Justice, the Office of Juvenile Justice and Delinquency Prevention, the Office for Victims of Crime, and the SMART Office. Points of view or opinions in this document are those of the author and do not necessarily represent the official position or policies of the U.S. Department of Justice.